After attending the 121st Canton Fair (China Import and Export Fair) and Cerambath (China International Ceramic & Bathroom Fair Foshan), We have found that large-format ceramic tiles were increasing popularity. Whether it is simple rustic tile or classic marble tile, they all started to be shown in large format.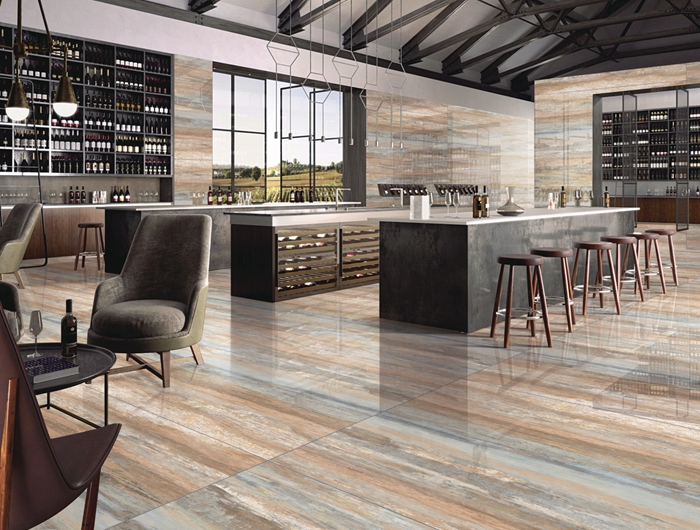 Size 1200mm×2400mm×13.5/20.5mm 
Ⅰ、Large-format goes in fashion
Large-format ceramic tiles can be cut freely and create a more continuous surface with less seams. Therefore, it is gaining popularity among more and more high-end users and designers.
In 2014, foreign ceramics enterprises have begun to produce large-format ceramic tiles and shown them in many international exhibitions. At that time, the large-format ceramic tiles produced by Chinese ceramics enterprises mainly in a size of 600×1200(mm).
Until 2016, in Guangdong, Fujian, Shandong, Sichuan and some other regions , some ceramics enterprises started to produce more and more large-format ceramic tiles with varied sizes. According to incomplete statistics, there were more than 20 enterprises who have shown the large-format ceramic tiles in Cerambath this year, including MONOLISA, OVERLAND, INOL, Guanzhu, Eagle, BODE, etc.
As for Canton Fair, there were also many large-format ceramics attracted people's attention, such as the BIG+ of NEW ZHONG YUAN Ceramics, 600×1200(mm) of Marco Polo and 900×1800(mm) of HOPO Ceramics.
| | |
| --- | --- |
| BRAND NAME  | SIZE(mm) |
| EAGLE CERAMICS | 900×1800(mm)   1200×2400(mm) |
| MONOLISA TILES | 900×1800(mm)   1200×2400(mm) |
| GUANZHU CERAMICS | 900×1800(mm) |
| HOPO CERAMICS | 900×1800(mm) |
| ASA TILES | 900×1800(mm) |
| INOL CERAMICS | 900×1800(mm) |
| NEW ZHONG YUAN CERAMICS | 900×1800(mm) |
| BODE CERAMICS | 1000×3000(mm) |
| LA'BOBO  CERAMICS | 1500×3000(mm) |
| PADARA  CERAMICS | 1500×3000(mm) |
| DAUGRES CERAMICS | 1200×2400(mm) |
Ⅱ、Creative machinery promotes production of large-format ceramic tiles
Producing large-format ceramic tiles need more advanced press and kiln. Generally, when we produce common ceramics, like 800×800(mm) , we just need a press with a force between 3000-4000 tons. But if we want to produce the one in 900×1800(mm), the force must be be higher than 4000 tons. That is to say, the ceramics with larger format need the press with higher force. Besides, the size of the mould of the press should also be bigger.
In recent years, Chinese enterprises have launched the presses in tons of force, including YP10000, YP16800 and YP20000 of HLT and KD16008 of KEDA. These presses can also press variable thicknesses (from 3 to 30 mm). In terms of kiln, Chinese enterprises have also launched the kilns with greater width. For example, in 2016 China International Ceramics Technology, Equipment, Building Ceramics & Sanitary Exhibition, KEDA, MODENA, Zhongyao have launched the kilns with an inside width of 3.85 meters, which can totally meet the domestic demand of producing large-format ceramic tiles.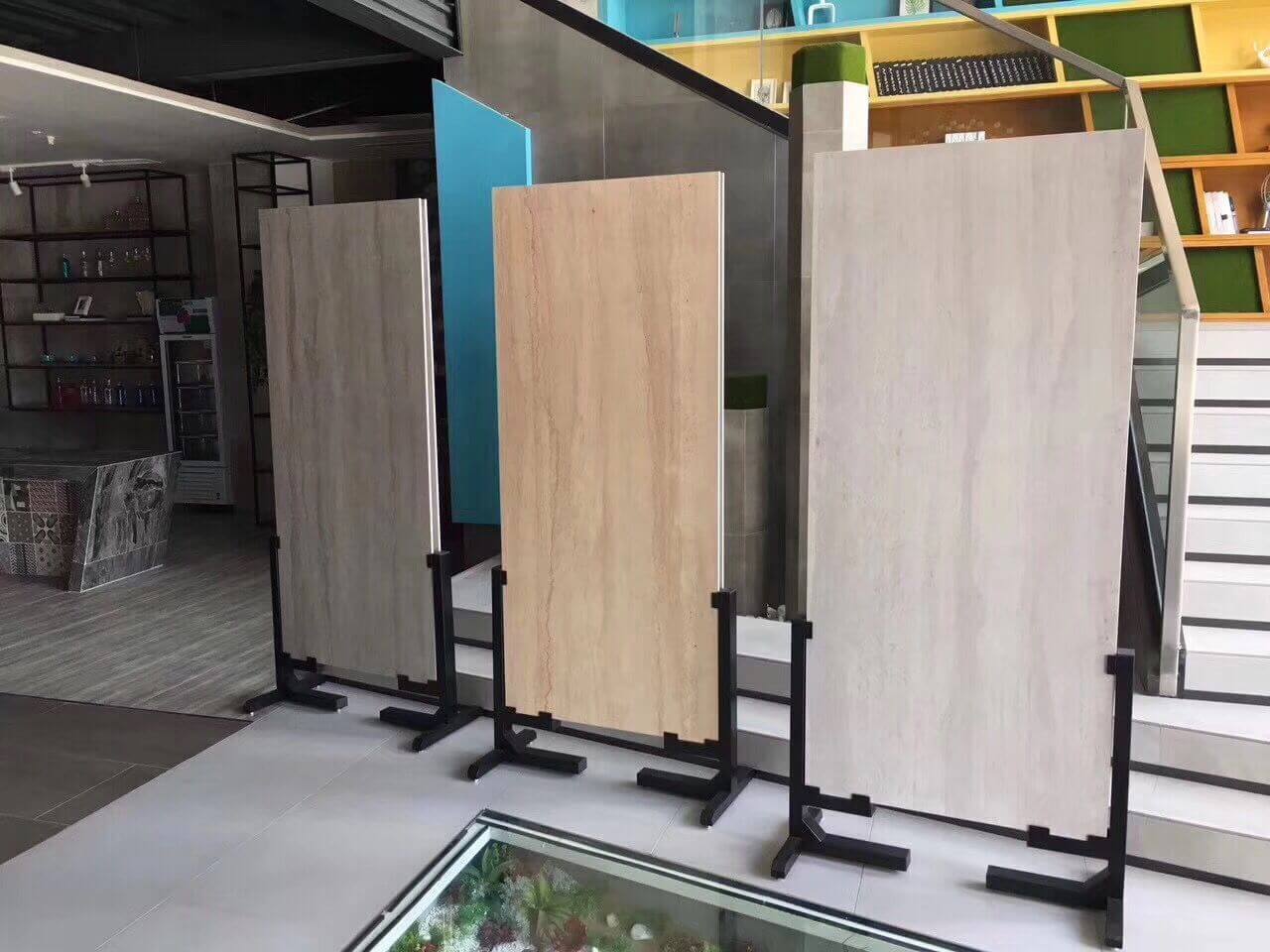 Size 800mm×1800mm
The quick development of machinery has brought new opportunities to large-format ceramic tiles. But large-format ceramic tiles still find it hard to be applied among home decoration users due to the high price, inconvenient transportation, strict requirement in construction and expensive labor costs. Therefore, large-format ceramic tiles are mainly applied in projects, such as the construction of hospitals, stations, government halls and high-end residential areas, etc.
There is another blog helps you know more about China tile business:How to import tile from China?