One of the most important steps in building an online business is to find reliable suppliers to make your product idea a reality. Most start-up online businesses are often faced with this dilemma: Where and how do I source products and suppliers?
You have a lot of options as to where to source for suppliers for your product. You can opt to search Google or Bing. You can search Business-to-Business (B2B) platforms. You can also try to attend trade shows or physically go to the country where you wish to have your products manufactured.
Of all the supplier source options available, searching from B2B platforms appears to be the most common and convenient way to search for product and suppliers.
B2B online marketplaces have almost all the products related to almost all industries available. These marketplaces connect buyers and sellers from all parts of the world providing both parties with opportunities to create business successes.
What is Alibaba.com?
Alibaba.com is the largest B2B marketplace in the world. Founded in 1999, alibaba.com is a China based website. As such, most of its manufacturers and suppliers are based in China. They also have manufacturers and suppliers from other parts of the world, though.
Despite the language barrier, cultural differences and other importing challenges, most small and medium businesses still opt for China manufacturers and suppliers. Alibaba is one of the best online marketplace to connect China sellers with buyers worldwide.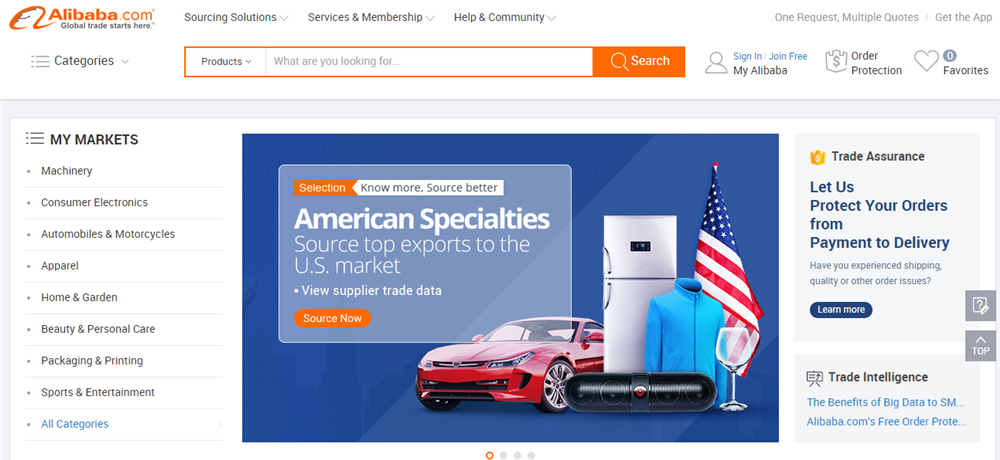 Why Choose Alibaba?
While there really is no replacement to personally meeting and talking to potential suppliers, Alibaba provides the best online option.
Alibaba has become one of the top B2B marketplace businesses rely on for cheap and top quality products, which they can either resell or have their own private labels on. Products and suppliers are mostly from China.
One of the main selling points of the Alibaba website is that fact that almost anyone can browse through their product, manufacturer and supplier database. One does not need to have a running business to do so.
The Alibaba website is currently being used in about 190 countries and has 40 different product categories. Businesses searching for manufacturers and suppliers like the fact that they have Instant access to a lot of manufacturers and supplier worldwide selling almost all products one can imagine and at low wholesale prices. Other benefits include:
Low acquisition costs means more retail profits for you.
Alibaba has a user-friendly website. Categories and products are organized so users can quickly find the products they need. Filters are also available to narrow down your search.
Alibaba also has a supplier verification category to help potential buyers distinguish reliable and trustworthy suppliers and manufacturers from those they should avoid.
Verified Gold Member suppliers have a Gold Supplier seal/ logo on their Alibaba page. This means the supplier/manufacturer has passed the stringent third-party verification process.
The potential for huge profits are the main reason small and medium businesses want to do business with Alibaba listed suppliers and manufacturers. While the website has adapted measures to connect potential buyers with only reliable and trustworthy suppliers, utmost care should still be taken in choosing the supplier to work with.
Not as Simple as It Looks
If you summarize the workflow that goes into every transaction through Alibaba, it will look something like this:
A supplier/manufacturer, referred to as the Exporter, posts information about his products and company. Such information would include photos of his products, detailed descriptions of the products, minimum order quantities, delivery terms and other pertinent information a buyer needs to make the buying decision.
A buyer, referred to as the Importer, searches for the products he needs and suppliers he wishes to work with. He sends price requests and negotiates for delivery.
The process may look simple but it does entail a lot of hard work to find the right product and supplier. Negotiating for the lowest possible price can also be a challenge especially if you dealing with a representative who is not well-versed in English. There are however ways deal with this language barrier handicap.
Before the Search
Sourcing for products and good suppliers from Alibaba can be a tedious task. If you do not know what to do, it can be overwhelming to see all those listed products and companies. If you have the right strategy, you will have success in sourcing products and finding the right suppliers.
Before starting your search, be aware that there are three ways you can work with suppliers and manufacturers you will find in Alibaba.
You can go through the product listings, choose what you want manufactured and search for a reliable supplier listed on the website to make a new product based on your specifications.
You can find a reliable supplier/manufacturer and work with that company has to come up with your product.
Choose a product listed in Alibaba and have it re-branded.
Getting Familiar with the Alibaba.com
Before searching for products and suppliers in Alibaba, it will be a lot easier if you are familiar with the website. Knowing how to navigate through the website will allow you to maximize what Alibaba has to offer so you can search for the best products and suppliers with success.
On the Alibaba homepage you will find everything you need to source the product/s you need and the right suppliers to work with.
Clicking on the "Sourcing Solutions" drop down menu, you will find a lot of options to further refine your search for products and suppliers. The options can help you find the products and suppliers you need in a fast and more efficient way.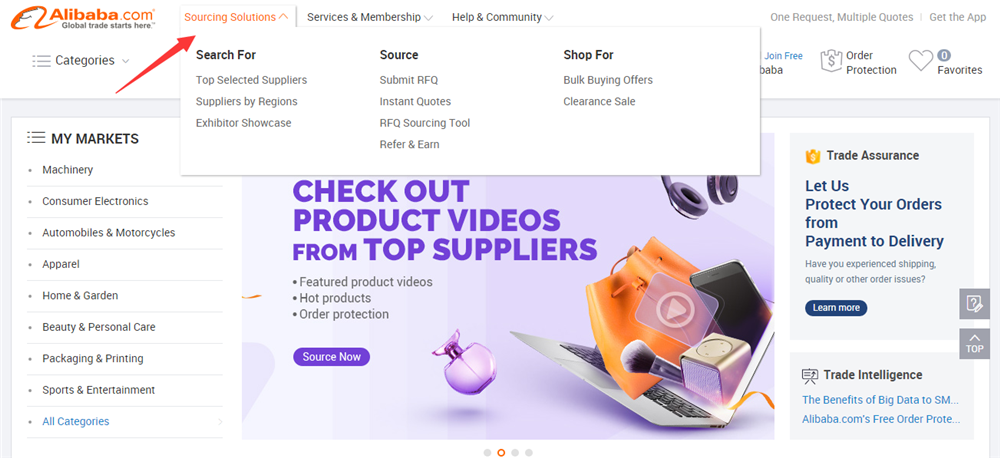 The dropdown menu for "Services and Memberships" provides information about the type of services and memberships available in Alibaba. This is a big help in choosing the right suppliers as well as in the entire procurement process.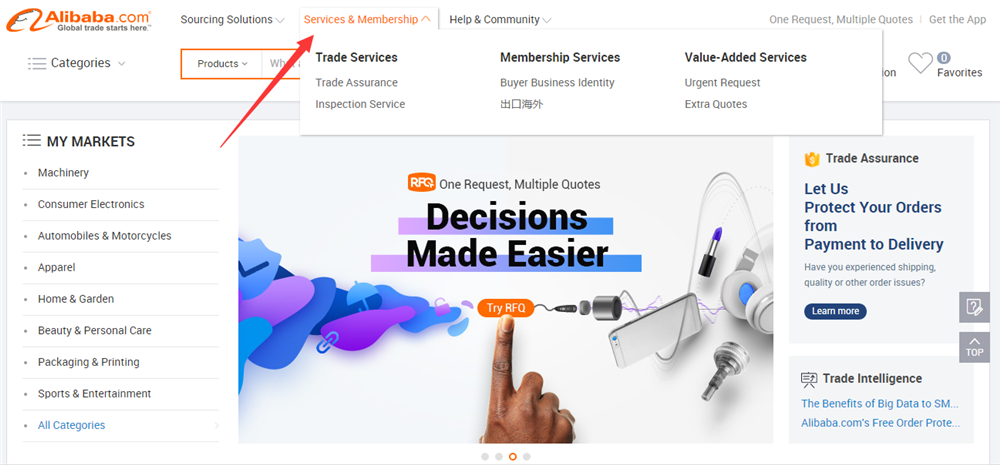 The "help and community" option is very useful especially to new users of the website. This is the place to go to learn how to Get Started, Find Products, Contact Suppliers, Order and Payments, Inspection and Logistics and Feedback & Disputes. Under the Community option, you can join the Discussion Forum to share or read about the experiences of other Alibaba users.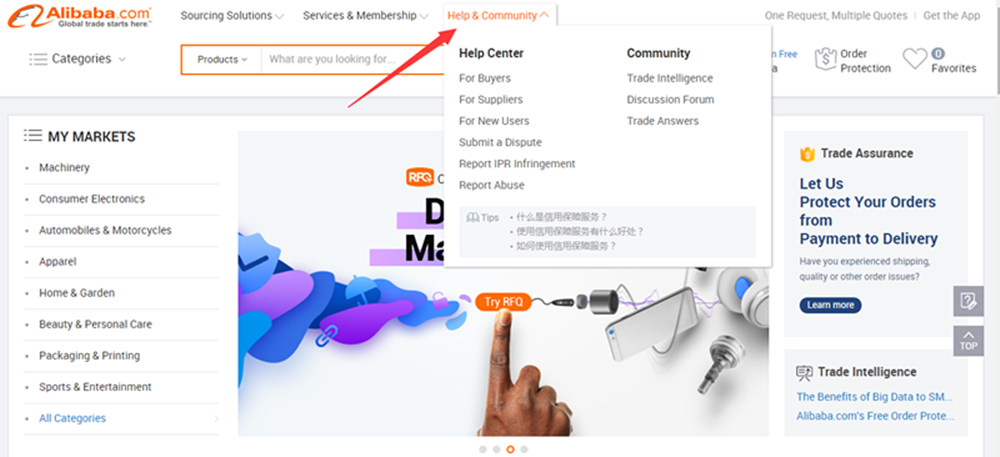 On the left portion of the website is the Category Menu. You can search for products in Alibaba based on categories. Searching through categories is best used when you have a niche market but do not have a particular product in mind. This option will give you an idea of the products available in every product category.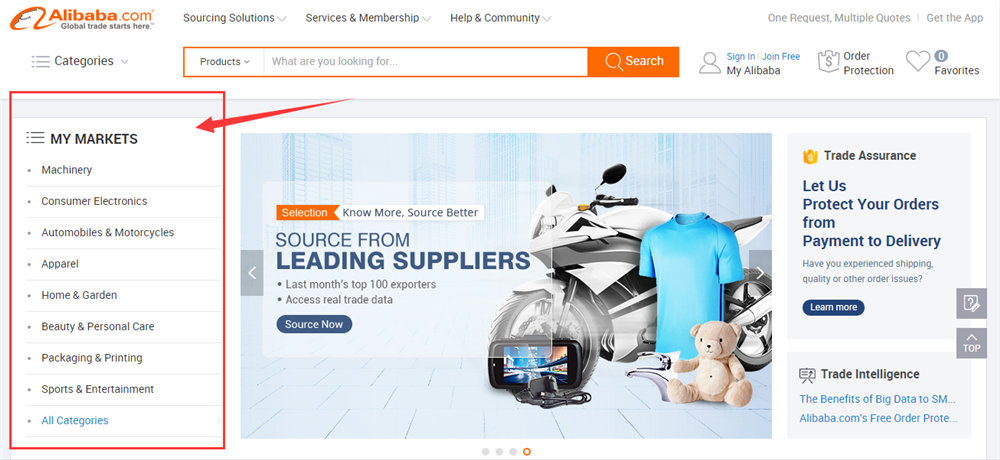 Sourcing Your Product
Alibaba is not an online shop so it does not have a shopping cart where you can add the products you wish to buy. What you can do in Alibaba is search for the product you need and get in touch with the supplier listed in the site for information.
Sourcing products in Alibaba is a 4-step process:
Register on the Alibaba website.
Search for the products you need.
Request for more detailed information regarding prices and terms.
Make a deal.
To search for the products you need, go to the search box in the homepage of the site. The search box has a dropdown menu where you can choose to search by "products", "suppliers" or "quotes." This will allow you to simplify your search.
Searching with the "Product" option will give you results related to the "keyword" you typed on the search box. If you searched for "jeans", the search results will include all jeans and their descriptions.
Searching with the "Suppliers" option will give you a list of suppliers that are in Alibaba who manufactures jeans.
Searching with the "Quotes" option will show a list of suppliers who can provide you with instant quotes for jeans.
You will get the results you are looking for if you are specific in your search. If you are searching for belts, be as specific as typing "leather belts," "leather belts for men," or "fashion belts for women."
On the other hand, avoid a search that is too specialized like a specific brand and model name. Also avoid adding the words "wholesaler," "supplier" and the like.
Choosing the Right Suppliers
When you are sourcing products and suppliers in Alibaba, you will be dealing with representatives from three different types of entities – manufacturers, distributors and traders. It is extremely important that you know exactly who you are dealing with.
They have the factory with equipment, material and manpower to produce products. They often only specialize in one type of product.
They do not produce the products but instead buy them from the manufacturers and sell them. They often carry only one type of product.
They buy various products from different manufacturers and sell them. They do not manufacture the products they sell.
It is always best to be working directly with a manufacturer. Manufacturers will be able to give the lowest prices so you can make the most profits.
Distributors and traders add a mark-up from the prices they get from manufacturers. In short prices are higher when bought from a distributor or trader than from a manufacturer.
Manufacturers too know the production process of their products making modifications easy while still being able to offer them at low prices.
There are certain limitations though in working directly with manufacturers. Most China manufacturers often do not have English speaking personnel. The language barrier often poses as a big problem between you and the manufacturer. There are also instances when your orders are too small for a manufacturer to accommodate.
Alibaba does not require suppliers listed in their site to identify whether they are a manufacturer, distributor or trader. When you ask a supplier if they are a manufacturer, they can simply reply with a yes.
The surest way to check the kind of supplier they are is to look closely at the products they carry. If they carry products that are not related with each other, most likely they are a trader. A manufacturer, in most cases, carries only one product and specializes in it.
Most suppliers in Alibaba are trading companies because they specialize in selling products they buy from manufacturers. They are also most likely to have an English speaking personnel.
However, since they are not so familiar with the products they sell, confusion often becomes a problem especially when product modifications are needed.
Choosing Good Suppliers
It is extremely important to be working with reliable and trustworthy suppliers. Following a few rules and tips will help lessen the risk and increase your chances of success in importing products from China. Here is what to look for in the Alibaba website to initially qualify a prospective supplier:
Alibaba has their own verification program in place which includes several levels of verification.Below is a chart that summarizes the three different levels of verification Alibaba has. These verification badges will appear on product list and supplier profiles if they have them. Looking for these verification is a good first step.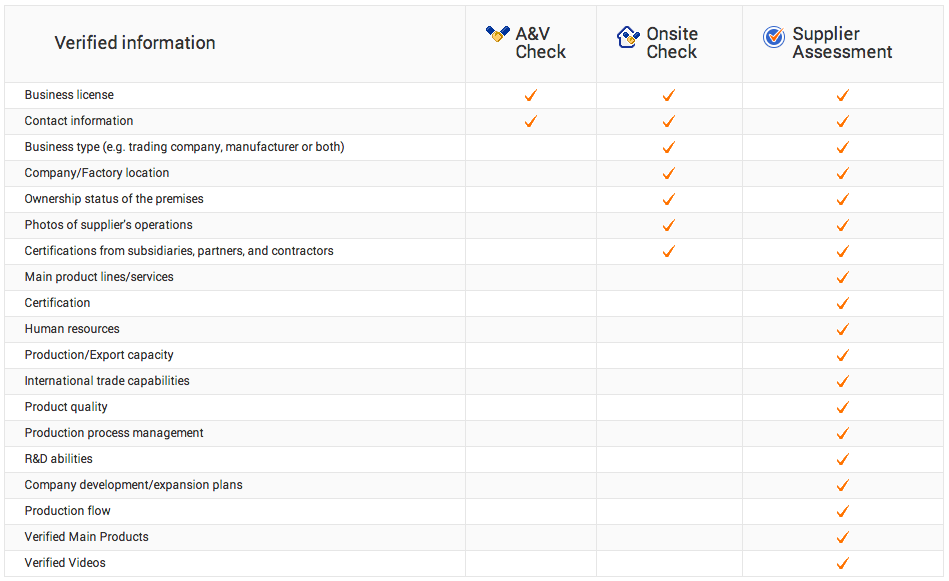 How it was written does not matter so much as long as it includes information on when the company was formed and who the officers are.
Photos of factory, office and "real people" (factory workers, sales peoples)
It would be re-assuring to see a photo of the company's workers and employees with the company signage on the building or gates of the factory.These photos, to a certain extent, provide legitimacy. Check the address of the company if it really does exist through Google maps or through a 3rd party sourcing firm in China.
Being a Gold member supplier in Alibaba means the company has paid the recurring membership fee and has passed an onsite inspection conducted by a 3rd party.
Gold membership fees are quite high and the supplier needs to have a site where they produce their products.
Has a good combination of price and quality.
Responds quickly to queries, has an English speaking personnel and is easy to deal with.
Has a good track record and reputation from buyers within and outside Alibaba.
The most important tip you can get in choosing a good China supplier is, no matter the situation, to exercise caution and not to be too trusting. Alibaba though has certain services that helps develop trust between buyers and sellers in their site.
Trade Assurance is a free service offered by Alibaba for its sellers and buyers. It helps develop the trust between buyers and sellers.
Trade Assurance protects buyers on the Alibaba website 100% with their Trade Assurance supplier. Coverage takes effect when there are delays in your shipment and when product quality is not at par contrary to what is stated in your contract with the supplier.
Negotiating with Alibaba Sellers
Before negotiating with any Alibaba supplier, bear in mind that you should avoid pushing the seller to give you a very low price. The seller has a limit as to how low he can go without sacrificing product quality.
If you become too aggressive, the seller will get back on you by shipping lower quality products just to meet your price. To get the best price and best quality, here is what you need to do.
Find the best suppliers for your product. A reliable and trustworthy direct manufacturer is your best bet. Make sure to choose a Gold Member supplier and one with Trade Insurance (Trade Assurance supplier). These suppliers have a $10,000-30,000 deposit with Alibaba just in case problems or disputes happen.
Send a Buyer's Request. Study the sample picture of the product well before submitting a Buyer's request. Include the full product specifications/description, your targeted price, quantity, payment terms and options, delivery terms and other pertinent information.
Wait for the quotations to come in.
Analyze the offers of the suppliers and make a shortlist of your preferred suppliers. It would be ideal to have between 7 to 10 suppliers in your shortlist.
Start contacting suppliers in your shortlist. Send these suppliers emails which should include the product you want to buy, the quantity you need and when you need them.
To wean out trading companies, ask the suppliers such questions as: "How many workers does your factory have?" "How many square feet is your factory?" Listen intently to how the representative will react and answer your question. If she sounds jittery or uncomfortable, ask further questions such as, "Can you send me a video of your factory?" If she does not consent to your request, she is representing a trading company. Ask the same questions with the rest of the suppliers in your shortlist. Continue to negotiate prices only when you find a factory.
Negotiate for the lowest possible prices through Skype and similar online tools with all suppliers in your shortlist.
Once you have the prices of all suppliers in your shortlist, start analyzing and making side by side comparisons.
Get back to the suppliers with the lowest prices and try to negotiate for much lower prices. You should know when to stop, though. You will be able to tell from the representative's voice when she is already giving the lowest price possible.
With all the best prices in your hands, choose the factory you like to do business with.
Ask for a sample of the product you are ordering so you can check the specifications and quality.
Once you are convinced with the quality of the sample, proceed with the order, payment and expect shipment.
How to Avoid Being Scammed?
When you are dealing with a China supplier, the probability of them taking your money and not delivering anything is small. Receiving inferior products is what happens all the time.
Receiving inferior products from China suppliers is not a scam, instead this is how business is in China. Problems with orders often happen when you are dealing with China supplier, toos. Such problems usually include:
There is a big difference between the quality of the sample and the actual products shipped.
Materials used in the products are often changed.
Delays in shipment. 30 days would often mean 120 days.
Quality of the product deteriorates on re-orders.
These types of problems though can be avoided and easily fixed should it happen.
Real scams however do exist. If you meticulously choose the right supplier / manufacturer you can avoid being scammed. Here are some tips on how to avoid being scammed in Alibaba.
As much as possible avoid dealing with free account members. Free accounts have not been checked or verified by Alibaba or any 3rdparty entity. Free accounts are either scammers or suppliers that are not serious with their business.
Avoid big branded electronic products or other branded products. Bear in mind that companies of big brands do not sell their products in Alibaba. If ever they do, the minimum order quantities are humongous. If the price and minimum quantities are low enough to be too good to be true, chances are, it is a scam.
As much as possible, only deal with Alibaba suppliers with Gold Membership. These are suppliers that have been verified so chances of you being scammed by any of them is low.
Look at the length of time the account has been in existence. Long time accounts are least likely to be scammers. When a buyers complains to Alibaba about being scammed, the account of the scammer is immediately banned from the site.
Check Scam and Fraud Listings. Alibaba, from time to time, comes up with a Scammers list (Gold Suppliers Blacklist). Other sources of a scammers' list include The Wholesale Forum, ScamWarners, AlibabaScam and the Ripoff Report.
Requested Payment Option. Banks transfers and Western Union are often the payment options requested by scammers because they are difficult to trace. Full payment before shipment are also often requested.
Ask for Documents. Legitimate and trustworthy suppliers will be more than willing to provide copies of the business license and bank account license where you are to deposit payments.
Scams exist because there are buyers who are willing to take the risk as long as they are able to avail of attractive and low prices. Exercise full caution. If it is too good to be true, most likely, it is a scam.
Suppliers in China are often your best bet for the lowest possible price you can find for the products/s you wish to sell. Alibaba is also the best marketplace to source your products and good suppliers.