As a hotel owner or hotel industry professional, you need to make your guests feel relaxed and comfortable when they're staying in your property. You want to please your guests by making them experience the best service, food, and accommodation. And this includes providing them with the best quality hotel supplies.
For your guests' enjoyment, you need to stock up on all the best hotel supplies, from basic supplies found in every guest room to decorative outdoor furniture. These include cleaning supplies, room amenities like soap, shampoo, lotion, slippers, shower caps, bathrobes and bath towels, tea and coffee makers, drinking glasses, tissue boxes, laundry bags, flower vases, and so much more.
That's why it's important to find hotel supplies manufacturers or sellers that will provide quality and affordable supplies for your hotel business.
Ⅰ、Why Buy Hotel Supplies from China?
So where do you buy quality wholesale hotel supplies? China, of course!
Big and small businesses alike have been importing a wide variety of products from China. Look at the labels of products around you and you'll see that most of them were made or assembled in China.
Competitive pricing is the main reason businesses prefer to import from China. With prices being negotiable, China offers the best factory prices and freight handling rates. Low-cost pricing is possible because the wages in China are cheaper and raw materials are more accessible. And since the Chinese are masters in mass production, their efficient production lines can manufacture everything from low budget items to 5-star quality big-ticket products.
Outsourcing to China has been very profitable for many businesses.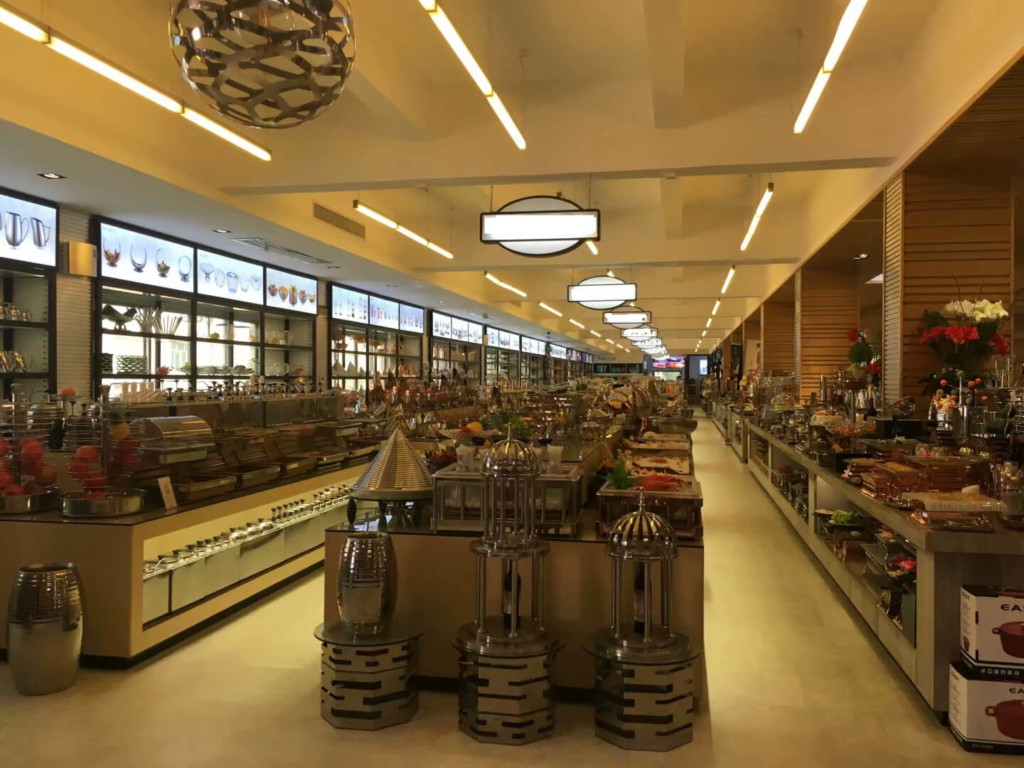 So whether you're operating a bed and breakfast, a motel, boutique hotel, or a luxury hotel, you can source all your hotel supplies requirements in China.
Ⅱ、Where to Buy Hotel Supplies in China
Once you're convinced that you'll source your hotel supplies from China, it's time to search exactly where to buy hotel supplies in China.
Here are two options in locating manufacturers or distributors for hotel supplies:
Wholesale markets
Expos or trade fairs
Either way, you get information in one place from a lot of suppliers. But you need to carefully plan to make the most of these business opportunities. Set up appointments in advance so you don't waste time just looking around. Focus on meeting the most important people for your business.
Ⅲ、Hotel Supplies Wholesale Markets in China
Most hotel supplies wholesalers are found in Guangzhou ShaXi International Hotel Articles City,Guangzhou Nantian International Hotel Facility Trading Center and Guangzhou Xinji Hotelex Hospitality Suppliers Center.
Note that the wholesale market has two types of sellers. One is the manufacturer or factory representative sales office and the other is a trading company. Both have a stock warehouse nearby. Often, the former offers lower prices and better quality products. By going straight to manufacturers, you will save money by cutting out the middlemen.
1. Guangzhou ShaXi International Hotel Articles City
Guangzhou Shaxi International Hotel Articles City occupies an area of 120,000 square meters.
You can find everything related to the catering, restaurant, and hotel industries at this extensive wholesale market. Many companies can customize your products if the order is large enough.
Here you can find a wide range of:
Ceramic dishware and glassware
Kitchen equipment
Stainless steel products
Fabric cloth
Hall items and guest room items
Hotel electric appliances
Food packaging
Office stationery
Cleaning items
And many more
Guangzhou ShaXi International Hotel Articles City is along Shaxi Road, Lopu, Panyu, Guangzhou, China. You can get there via the Guangzhou Metro, Line 3 to the Xiajiao station. After that, by taxi, which takes around 5 to 8 minutes.
2.Guangzhou Nantian International Hotel Facility Trading Center
Guangzhou Nantian International Hotel Facility Trading Center, formerly Nantian Trading City, covers an area of about 200,000 square meters. It has 1,500 shops, 30,000 square meters of warehouses, and 15,000 square meters of parking lot.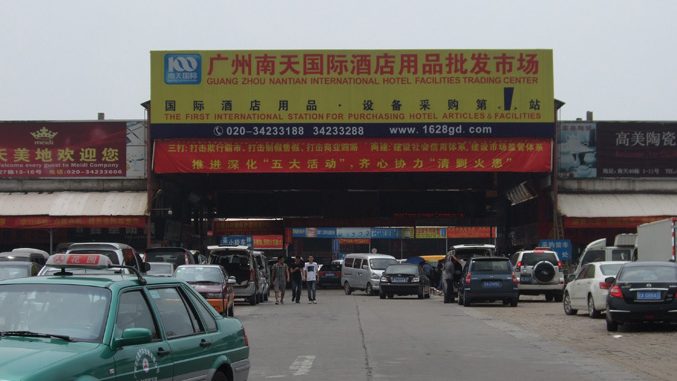 The Guangzhou Nantian International Hotel Facility Trading Center is in Guangzhou Road South and the north-west corner of Luo Xi Bridge, Guangzhou, China.
The best way to get here is by metro, you take line 3 to Lijiao. Since there are no bus here, take a taxi is your best bet to go to the market.
Its main products include:
Kitchen equipment and utensils of Chinese and western styles
Buffet restaurant facilities
Porcelain and glass products
Freezers, cold room/storage, ice-maker
Bathroom and bedroom equipment and products
Wool, knitted products
Fire-protection equipment, locks, safes, transport carts
Machine cleansing equipment, cleaning liquids and products
Health care products
Plastic products
Elevators, headboard control panel, lighting etc.
3.Guangzhou Xinji Hotelex Hospitality Suppliers Center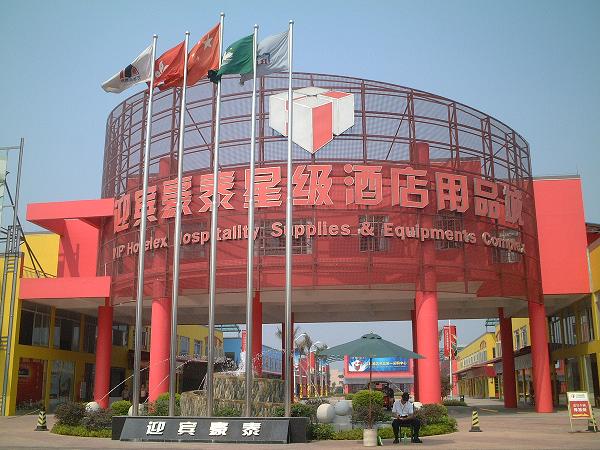 Which is near Guangzhou Shaxi International Hotel Articles City.It takes 15 mins by car.Sometimes there is shuttle bus between these two centers. Most of the products are simiar between them because they belong  to the same group.But Hotelex is new and less customers know there.
If you have enough time,we suggest you visit those 3 places.However,if your schedule is urgent,I think Guangzhou Shaxi International Hotel Articles City is the best one to visit.
Ⅳ、Hotel Industry Exhibitions and Trade Fairs
Hotel industry exhibitions and trade fairs provide visitors with a broad view of the whole market and industry. These events gather the important players from the hotel industry. Visitors get to see many products in one place and time, enabling them to evaluate and compare suppliers by attending demonstrations and asking detailed questions.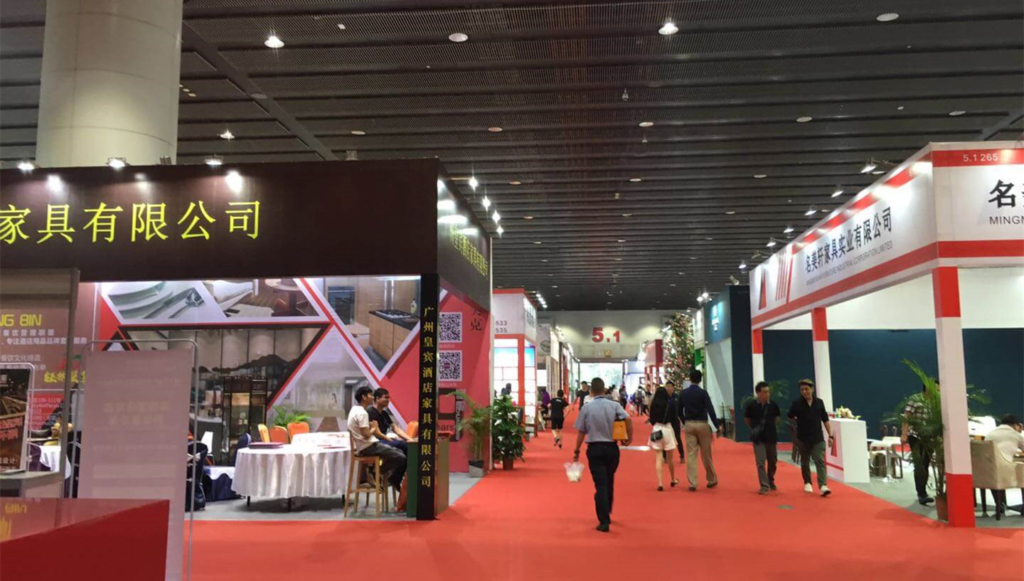 1.Hosfair – International Hospitality Supplies Fair
Location:   China Import and Export Fair Pazhou Complex, Guangzhou
Website:    www.hosfair.com
2.FHC Food and Hotel China
Location:    Shanghai New International Expo Centre, SNIEC, Shanghai
Website:    www.fhcchina.com
3.Guangzhou Hotel Equipment and Supply Exhibition
Location:   China Import and Export Fair Pazhou Complex, Guangzhou
Website:    http://www.hotelbao.cn/
4.Hotelex – International Hospitality Equipment & Food Service Expo
Location:    Shanghai New International Expo Centre, SNIEC, Shanghai |
China National Convention Center (CNCC), Beijing
Website:    en.hotelex.cn
Ⅴ、How to Search Hotel Supplies from China Online
It's fairly easy to search online for suppliers of hotel supplies from China. Your old reliable friend Google will help you. You can also go directly to large e-commerce sites like Alibaba, Global Sourcing or DHGate to find manufacturers or wholesalers for hotel supplies.
From the site's search bar, enter product names or keywords for the products that you need. Once you get the results page, narrow down your search to find exactly what you're looking for.
For example, you can first type "hotel slippers." Many types of hotel slippers will appear, from which you can narrow down depending on your specifications, like disposable slippers or plush luxury hotel slippers.
See if the site has a page where you can specifically look for wholesalers. Another option would be to go to the RFQ (Request for Quotation) page if there's one, where you can ask for quotations for your particular needs.
Once you get quotations from several suppliers, the next step would be to compare quotes and then get in touch with those suppliers that you find interesting.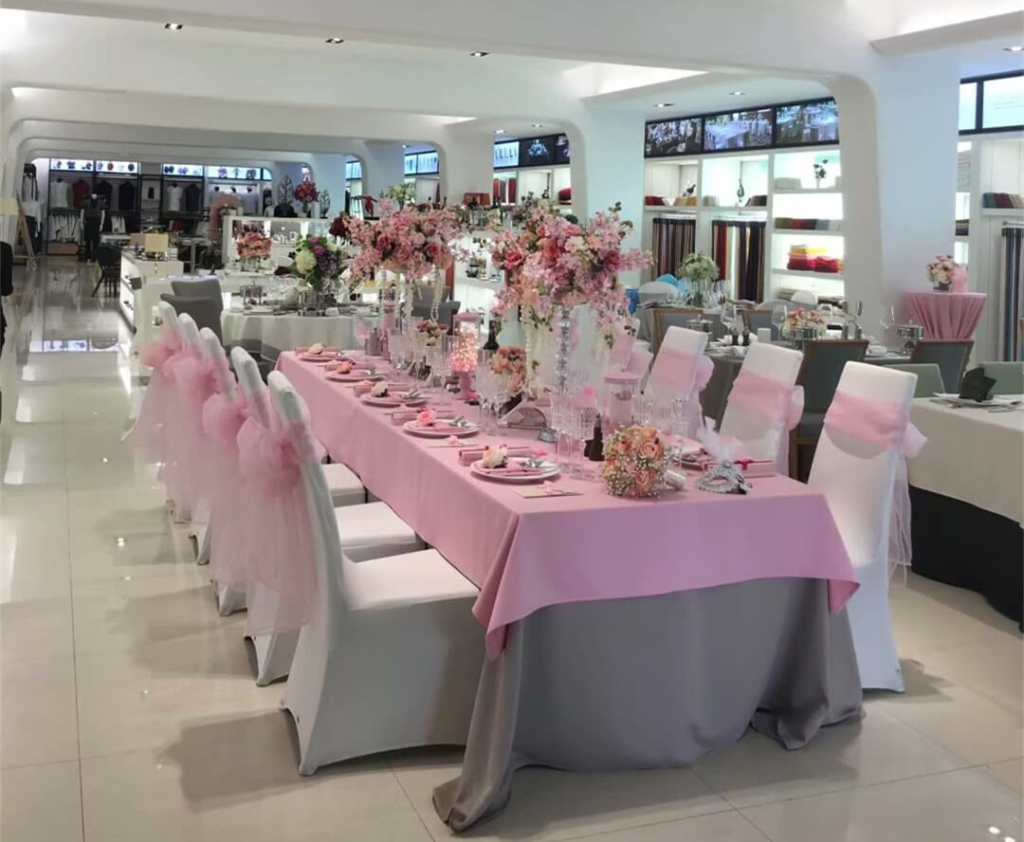 Remarks:Some of our customers told us that it was very confused and headache to contact with suppliers online because their quotation differ a lot for the same products.They did not know who was good to cooperate.As to our past experience,some online suppliers would use low price to attract customers but what they offer was only rubbish.Moreover,we noticed that now it was very easy to sell on the famous B2B platforms only if the suppliers pay USD4000 per year(some platforms are free),the suppliers may be personals even though their website showing they are manufacturers.
Ⅵ、Tips When Buying Hotel Supplies from China
You'll find it easier to import from China if you follow these helpful tips:
1. Get to know your products well. Familiarize yourself with the different hotel products you need, their function or what they're used for, the raw materials they're made of, the physical characteristics of finished goods and the different styles that they can be produced, etc. This information provides you with the specifications of your products. Have this information at the beginning of negotiations.
2. Communicate with potential suppliers your detailed requirements. Have photos or illustrations of the products and logos ready.
3.Have a budget in mind for each type of product or for your entire order. It will be easier to filter potential suppliers that can meet your price requirements.
4.Get quotes and samples from many wholesalers or suppliers. This way you'll have a range of products and prices to choose from. Also, this is to ensure that you're paying competitive prices. Negotiate with your suppliers to get a good price, especially if you have a large order.
5.Be careful when asking for a lower price and the supplier agrees with the lower price. Do an inspection before they ship the order. Some shady suppliers may trick you. With a lower price agreed upon, they may try to ship lower quality products.
6.Do your due diligence when choosing your supplier. Make sure you're dealing with a legitimate business. Look at their business experience. Ask for their business licenses, as well as references from previous customers.
7.It's also important to develop a good working relationship with your supplier and maintain open communication to avoid or at least minimize problems.
Ⅶ、Problems You May Have When Buying Hotel Supplies from China
Quality control and delivery delays remain to be the top problems when it comes to buying hotel supplies from China.
Product quality expectations do not quite match the actual products delivered. There will be wrong sizes, wrong colors, wrong quantity, incorrect logo, etc. For delivery date problems, products are not received within expected delivery dates.
In both situations, expectations differ from reality.
Often you blame the supplier for not conforming to agreed terms. But to make sure these situations are avoided, it's also important for you as a buyer to set realistic expectations.
Do not focus solely on getting the lowest price because you risk getting poor quality products and poor sales support services.
What importers worry about most is the products received are not what they order.How to solve this problem?
Ⅷ、Hire A Chinese Sourcing Agent
Many companies doing business with Chinese suppliers owe much of their success to hiring a good Chinese sourcing agent.
Dealing with Chinese suppliers can be difficult. That's true if you're not familiar with how they do business in China. And if you don't speak and understand the local language.
Working with qualified China sourcing agents can be a big help in finding and verifying suppliers, negotiating contract terms, and providing shipping and customs clearance support. Get an agent that already specializes in sourcing quality hotel supplies.
In a word,tt's not hard to understand why many large international companies are willing to have their own agents in China.Even pay some percent of commission,they can save great time and money.
Conclusion
You can find quality hotel supplies in China that are also reasonably-priced. Investing in the services of a local sourcing agent will make doing business in China so much easier.